Recipe: No-Knead Bread
Adapted from The New York Times
(Published November 8, 2006)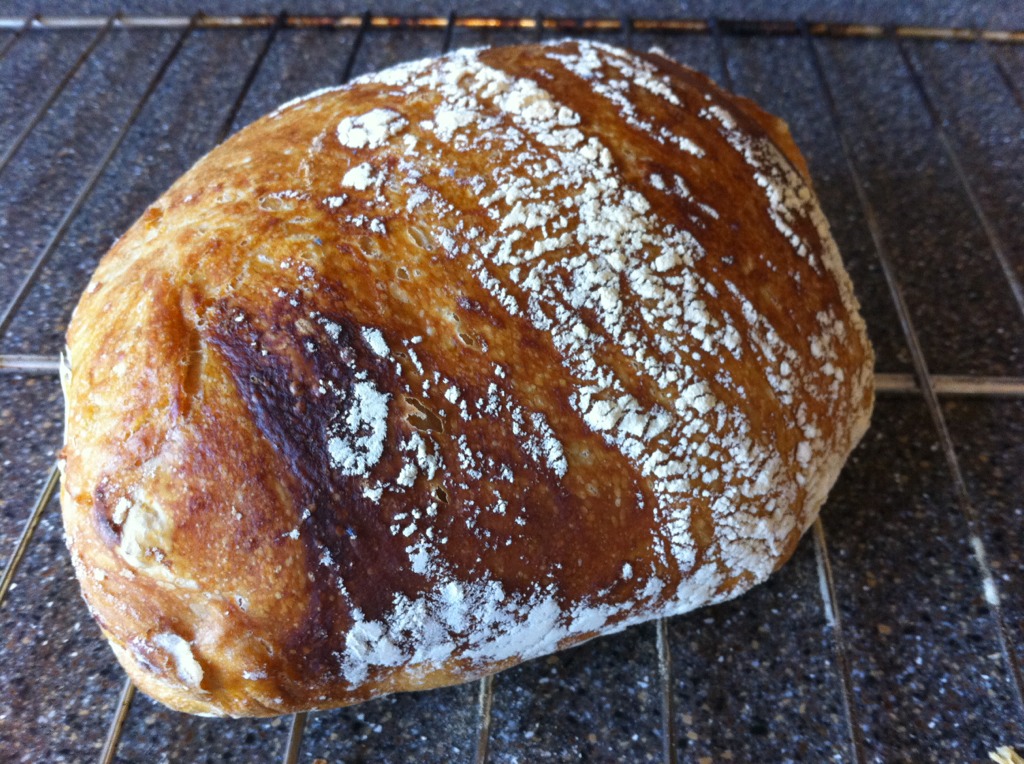 Time
About 1½ hours plus 20 hours' rising
Yield
One 1½-pound loaf.
Hardware
Mixing bowl
Large spoon
Measuring spoons
Plastic wrap
Silicone mat
Non-terry cloth towel
Cast iron or ceramic pot with lid (> 3 quarts)
Software
3 cups of bread flour; more for dusting
¼ teaspoon of instant or active dry yeast
1¼ teaspoons of salt
Lukewarm water
Procedure
In the mixing bowl, combine flour, yeast and salt. Add 1⅝ cups water and stir until blended; dough will be shaggy and sticky. Cover bowl with plastic wrap. Let dough rest for 18 hours at about 70 ℉.
Sprinkle a bit of flour on the silicone mat and place dough on it; sprinkle the dough with a little more flour and fold it over on itself a few times. Cover loosely with plastic wrap and let rest for 15 minutes on the mat.
Wet your hands and gently yet quickly shape dough into a ball. Put dough seam side down on the mat and dust with more flour. Cover with the towel and let rise for 2 hours.
Heat oven to 450 ℉. Put pot in oven as it heats. After 30 minutes, carefully remove pot from oven. Turn dough over into pot, seam side up; it may look like a mess. Cover with lid and bake 30 minutes, then remove lid and bake another 30 minutes, until loaf is beautifully browned. Cool on a rack for a half-hour.
To re-crisp the crust after the bread has cooled, bake in 350 ℉ oven for 10 minutes.